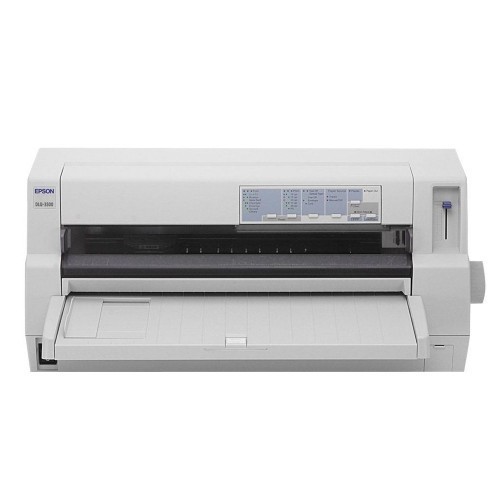 Epson DLQ-3500 Dot Matrix Printer
SKU 8114 HSN:8443
Product Details
PRODUCT NAME
Epson DLQ-3500
PRODUCT CODE
C11C396021
PRINTING METHOD
Impact Dot Matrix, Flat-bed type
NUMBER OF PINS IN HEAD
24 pins
PRINT DIRECTION
Bi-directional with logic seeking
PRINT SPEED
High speed draft 10 cpi
550 cps
Draft 15 cpi
742 cps
Draft 12 cpi
594 cps
Draft 10 cpi
495 cps
Draft 20 cpi condensed
495 cps
Draft 17 cpi condensed
424 cps
LQ 15 cpi
247 cps
LQ 12 cpi
198 cps
LQ 10 cpi
165 cps
LQ 20 cpi condensed
330 cps
LQ 17 cpi condensed
282 cps
PRINT CHARACTERISTICS
Character tables
1 legal character set
14 international character sets
13 character code tables(Standard)
Italic, PC437, PC850, PC860, PC861, PC863, PC865, BRASCII, Abicomp, Roman 8, ISO Latin 1, PC858, ISO8859-15
BITMAP FONTS
Epson Draft
10, 12, 15 cpi
Epson Roman
10, 12, 15cpi, Proportional
Epson Sans Serif
10, 12, 15cpi, Proportional
Epson Courier
10, 12, 15cpi
Epson Prestige
10, 12 cpi
Epson Script
10 cpi
Epson Script C
Proportional
Epson OCR-B
10 cpi
Epson Orator
10 cpi
Epson Orator-S
10 cpi
SCALABLE FONTS
Epson Roman
8 to 32 points
Epson Sans Serif
8 to 32 points
Epson Roman T
8 to 32 points
Epson Sans Serif H
8 to 32 points
BAR
EAN-13, EAN-8, Interleaved 2 of 5, UPC-A, UPC-E, code 39, Code 128, PostNet
PRINTABLE COLUMNS
PITCH (CPI)
Characters per line
Characters
10 cpi
136
10
12 cpi
163
12
15 cpi
204
15
17 cpi condensed
233
17.1
20 cpi condensed
272
20
PAPER HANDLING
Paper Path
Standard
Manual insertion: (Front in, Front out)
Tractor: (Rear in, Front out)
Cut Sheet Size
Width: 92 -420mm (3.6 - 16.5")
Length: 92 - 420mm (3.6-16.5")
Envelopes
No. 6, No. 10
Continuous Paper Size
Width: 101.6-406.4mm (4.0-16.0")
Length: 101.6 - 559 mm (4.0 - 22.0 inches)
* Can also print labels
Overlapping Size
Width: 101.6-406.4mm (4.0-16.0")
Length: 101.6mm-559mm (4.0-22.0")
* Can also print labels
PAPER THICKNESS
CUT SHEET
Single sheet 0.065-0.12mm (0.0025-0.0047")
Multi-part forms 0.12-0.53mm (0.0047-0.021")
ENVELOPES
0.16-0.52MM (0.0063-0.021")
CONTINUOUS PAPER
Single sheet 0.065-0.9mm (0.0025-0.0074")
Multi-part forms 0.12-0.53mm (0.0047-0.024")
OVERLAPPING
0.65mm (0.026") Total thickness
PAPER FEEDING
FRICTION FEED (FRONT/REAR MANUAL, REAR CSF)
PUSH TRACTOR FEED (REAR)
OPTIONAL FEEDER
Cut sheet feeder (Rear in, Front out)
ASA Unit (Front in, Front out)
COPIES
Original + 7 Copies
1/6 inch or programmable by 1/360 inch
INPUT DATA BUFFER
128 K Byte
INTERFACE
Standard
Centronics(-type 8-bit parallel interface USBI/F Ver1.1
IEEE-1284 Nibble mode), Type B1/F level 2
Option
Expansion slot (Optional Type B interface)
RIBBON CARTRIDGE
Colour
Black or Colour
Fabric Ribbon Cartridge
Option
Fabric Black: 6 million characters
Ribbon Life
(LQ 10 cpi, 48 dots/character)
Fabric Colour/Black 1.5 million characters
Magenta 1.1 million characters
Cyan 1.1 million characters
Yellow 0.8 million characters
ACOUSTIC NOISE
Approx. 59dB (A) (ISO 7779 pattern)
RELIABILITY
Total Print Volume
9 million lines
Print Head Life
400 million strokes/wire(monochrome)
CONTROL PANEL
7 switches, 12 LEDs and LCD
ENVIRONMENTAL CONDITIONS (OPERATING)
Temperature
5° to 35° C (Non-condensation)
Humidity
10 to 80% RH (Non-condensation)
POWER REQUIREMENT
Voltage
AC 220V-240V
Rated frequency
50 to 60 Hz
Power consumption
Approx. 85 W (ISO 10561 Letter pattern)
Energy Star Compliant
DIMENSIONS
Width
660 mm
Depth
432 mm
Height
276 mm
Weight
18.1 kg
PRINTER DRIVER/UTILITY
OS
Microsoft® Windows® NT 4.0 / 95 / 98 / 2000 / Me®
UTILITY
Epson Status Monitor 3 (Microsoft® Windows® 95/98/2000/Me® and Microsoft® Windows® NT operating system version 4.0 environment only)
WARRANTY
Standard Warranty
12 months return to base
Optional
Additional 2 years return to base warranty - 3YWDLQ3500
* For more information visit www.epson.com.au/warranty/
Product Options
| Product Code | Description |
| --- | --- |
| | Products |
| C11C396021 | DLQ-3500 |
| | Media Handling Options |
| C12C806832 | Single-bin cut sheet Feeder |
| | Interfaces |
| C823081 | Type B 32 Kbyte intelligent serial interface |
| C823102 | Type B 32 Kbyte buffered parallel interface |
| | Cables |
| EPCP | Parallel printer cable |
Epson is the registered trademark of Seiko Epson Corporation. Epson ESC/P2 and Epson Stylus are trademarks of Seiko Epson Corporation. MicroDot is a trademark of Epson Australia Pty Limited. All other product names and other company names used herein are for identification purposes only and may be the trademarks or registered trademarks of their respective owners. Epson disclaims any and all rights in those marks. Specifications are subject to change without notice.
Equipment supplied by Epson Australia is designed to function in conjunction with genuine Epson consumables and accessories specifically configured for it.
Usage Conditions

Epson products are designed and made to give highly reliable use and long life when used according to its specifications. With any system, product or device used in situations where human life may be involved or at risk, Epson advises that you should take all necessary steps to ensure the suitability of your Epson product for inclusion in your system, and recommends that you include fail-safe procedures and redundancy support or backup equipment in your system, to maintain the maximum safety margin and optimum system reliability. Examples include but are not limited to – do not interfere with any electrical components within the device, do not use items supplied with the product for purposes other than as intended by Epson (ie mains cords, inks, CDs, plastic wrapping) and do not make modifications to the product.
Save this product for later